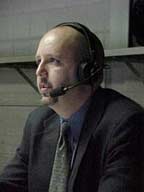 Jim Mirabello began his career at K104 and sister-station WEYZ in the mid-80's as a reporter and afternoon anchor. Jim eventually became the News Director in October of '87, and continued in that role until May of '91.
In addition to news duties, Jim was a standout commentator for Gannon
Basketball and Erie Panthers Hockey.
"WHERE ARE THEY NOW?"
Jim is currently the Voice of the Indianapolis Ice Hockey Team.